Welcome to the Music Printing History website. It includes content, images, and videos of everything music printing. We hope you enjoy your visit!
The history of music printing is a fascinating subject that is almost never mentioned in the halls of academia or among professional musicians let alone among the general public. Music printing is an art that is pretty much extinct, and it is the goal of this website's author to keep this art or at least the history of it alive. The techniques used for printing music in the Western world have varied throughout time. Although the methods and techniques overlap in history, and some methods were used in conjunction with each other, they are none the less fascinating to learn about. I hope you enjoy this online museum!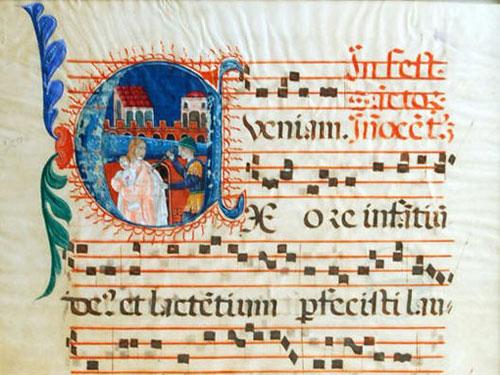 During the early Middle Ages (c. 800-1450) the Catholic Church was a powerful body. It exercised control over many affairs including music. During this time, the church believed that music elevated liturgical words to a higher level.
By the late 15th century a technique evolved for printing music called woodblock printing. The process involved writing or drawing the music on a piece of wood that was leveled on one side to make it flat and even.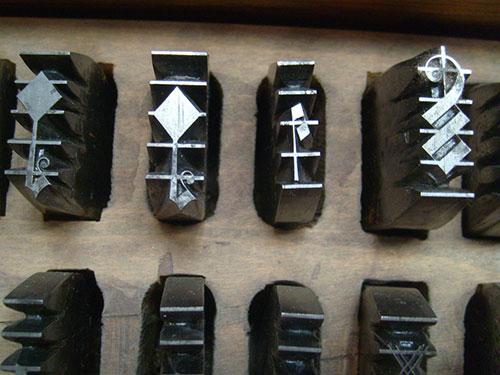 In 1450, Johann Gutenberg invented the printing press. As with previous methods of printing, it would soon be utilized to print music. With moveable type every note, line, and beam, had to be assembled into a type "puzzle."
Because moveable type was unable to duplicate many of the details of hand-written manuscripts, more elaborate methods of printing music were adopted. Engraving was the next printing technique used to print music.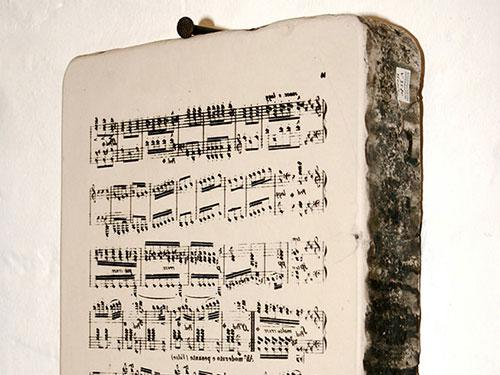 The process involved drawing an image, text, or music on a smooth piece of limestone with an oil-based ink. Acid was then poured onto the stone to burn the image onto the surface. A water soluble solution was then applied.
Traditional lithography didn't suit every task, particularly when most printing was still done by letterpress and the music was to be mixed in with normal text such as hymn books. Printing blocks were the answer.
The invention of the camera changed music printing once again. Photolithography became a practical process to copy music. This method involved transferring a photo image to a stone or metal plate using chemicals.
Stencils were not very popular but they were used. The process was slow, but it did provide consistency in the size of the notes, clefs, etc. The stenciled copy could then be used to produce more copies using another process.
While music has been handwritten throughout the ages, there have been several books and instruction manuals written on how to copy music by hand. Below are some of the materials that were used to write hand-written music professionally.
Music typewriters were developed in the 19th century, but it wasn't until the mid 1900s that they became popular. Musicians usually specialized in using these machines, and several different models were invented during this time.
Although many programs and software have been developed, there have been some innovative techniques of notating music through the use of technology including hardware and through the Internet.
The mission of Music Printing History is to educate the public about the traditional art of music engraving and music printing. Our website provides educational information for music students, educators, and anyone interested in music.